SOME OF MY FAVORITE PLACES.
'/'/'/'/'/'/'
SALMON LAKE PARK
GRAPELAND,TX.
SALMON LAKE PARK AT GRAPELAND TX.FLOYD AND FANNIE SALMON HAVE BUILT A SHOW PLACE IN EAST TEXAS.
------------------------------------------------------------
The first weekend in September is serious "Toe-Tapping" fun at the scenic Salmon Lake Park in Grapeland, the host of one of the largest annual bluegrass festivals. Continuous music from well-known musicians will perform day and night. Bring your lawn chairs and blankets and enjoy music, arts and crafts, food and fellowship. It is a true family affair - no alcohol allowed. The 20-acre Salmon Lake Park is located 1 mile west of Grapeland and 13 miles north of Crockett. Take US 287 Business to Grapeland, go west on FM Rd. 227, and follow the signs to the park. The park is open year round and provides a unique area for camping, recreation, lodging, swimming, family reunions, and RV clubs.
The park features a "Downtown" that has been created from 40 refurbished old buildings and memorabilia that recall life before World War II. Overnight lodging is available in several old buildings refurbished into cabins. Most sleep 4-6 persons and feature kitchenettes. A 2-story, dorm-style "hotel" sleeps 13 and offers a large kitchen dining area. The park offers 400 RV sites and about 50 primitive campsites. The "swimming hole" offers a platform and elevated diving board. A separate fishing pond is offered. For additional information or reservations write to Floyd and Fannie Salmon, Box 483, Grapeland, TX 75844 or call (409) 687-2594.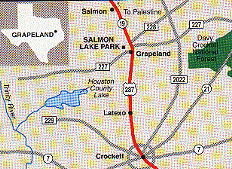 1700 ft. Grass Air Strip
1000 ft. Good Approach
For more information call
409-687-2594
CLICK HERE FOR GRAPELAND TX WEB PAGE
##########
COUSHATTE RANCH RV PARK


HAVE YOU EVER BEEN TO COUSHATTE RANCH RV PARK IN BELLVILLE,TX.? THIS IS A BEAUTIFUL SETTING AMONG OAK TREES WITH SPANISH MOSS..IT IS A GREAT PLACE FOR A BLUEGRASS FESTIVAL OR JUST A LAZY LAID BACK PLACE TO GO FOR A WEEKEND,OR A WEEK. MR.NELIUS,WHO OWNS THE PARK,HAS A GREAT COLLECTION OF OLD TRACTORS,FARM EQUIPMENT.AND OLD CARS.THE QUIET IS THERE,THE HOSPITALITY ,AND FRIENDLINESS ALSO.
TRY IT SOMETIME !!!
409-865-2656/865-5897.

##########


DO YOU LIKE TO EAT ?--TRY ANDY'S CAFE IN GATESVILLE,TX.AT THE CORNER OF HIGWAYS 36 AND 84...THIS ISN'T A DINING PLACE..IT'S AN EATING PLACE IF YOU ARE HUNGRY.


##########

ANOTHER GREAT PLACE TO EAT IF YOU ARE HUNGRY !


HIGHWAY 84 WEST
McGREGOR, TX.

####################

LOST MAPLES STATE PARK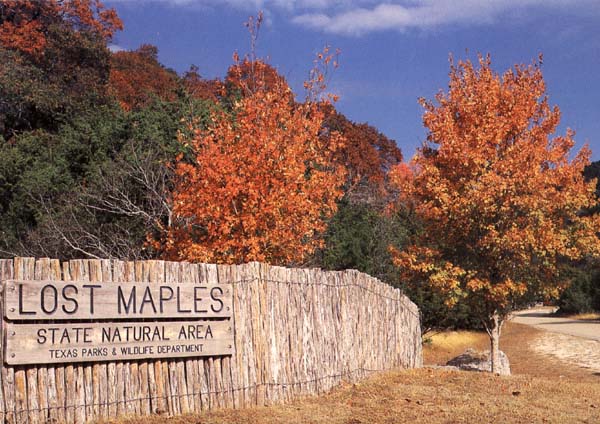 LOST MAPLES STATE PARK IN THE GREAT STATE OF TEXAS !!FALL FOLIAGE PEAKS ABOUT THE MIDDLE OF NOVEMBER.ONE OF THE MOST BEAUTIFUL AREAS OF TEXAS TO VISIT.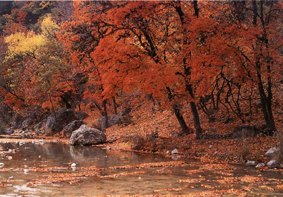 CLICK HERE FOR WEB PAGE
###########
HOMEPLACE ACRES


HOMEPLACE ACRES , ATHENS LA.--QUIET , SECLUDED RV PARK IN NORTH LA.---FISHING LAKE,GOOD PEOPLE ! 318-258-4456

##########
OAKDALE PARK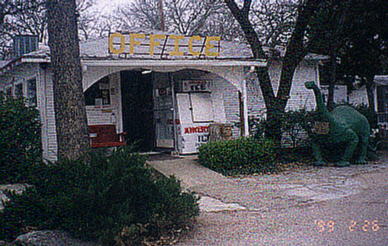 OAKDALE PARK ,GLEN ROSE TX.
PROBABLY ONE OF THE OLDEST RV PARKS IN TEXAS.LARGE SWIMMING POOL,FULL HOOKUPS,LARGE REC HALL,CABINS,3 BLUEGRASS EVENTS PER YEAR.ON BANK OF THE PALUXY RIVER,NEAR THE BRAZOS RIVER.817-897-2321
CLICK HERE FOR WEB SITE
Send me mail

##########

TRES RIOS RV PARK
GLEN ROSE ,TX.
Great park at the intersection of the Brazos River,Paluxy River,and Squaw Creek
in Somervall Co. Texas.
Cabins,400 RV Hookups,swimming pool,rec. halls etc.
Many things to do in this one !


####################


THE GROVE , TEXAS



A NOSTALGIC MUSEUM IN RESTORED "W.J.DUBE" GENERAL STORE AND POST OFFICE.ABOUT 15 MILES WEST OF TEMPLE,TEXAS ON HIGHWAY 36.MANY ANTIQUES,AND MEMORABELIA.GREAT PLACE TO BROWSE,AND VISIT THE PAST.
NEAR "MOTHER NEFF STATE PARK" ALSO LISTED ON THIS PAGE.


####################

OUTWEST CAMPGROUND
SPRINGTOWN , TEXAS.
OUTWEST CAMPGROUND IS A GOOD PLACE TO GO UNWIND...
BLUEGRASS FESTIVALS...
COWBOY EVENTS...FISHING LAKE...
JUST WEST OF FT.WORTH ON HIGHWAY 199
FRIENDLY FOLKS ! !

################


MOTHER NEFF STATE PARK





LOCATED ON THE BANKS OF THE LEON RIVER IN SOUTHEASTERN CORYELL CO.TEXAS...THE FIRST STATE PARK IN THE SYSTEM , AND BUILT IN ABOUT 1937 BY THEN GOVERNOR PAT NEFF,AFTER HIS MOTHER DONATED THE LAND FOR THE FIRST STATE MAINTAINED PARK. A BEAUTIFUL SETTING IN A QUIET LOCATION--FISHING , BIKE TRAILS, HIKING TRAILS , AND A BIT OF HISTORY WITH RV HOOKUPS....254-853-2389.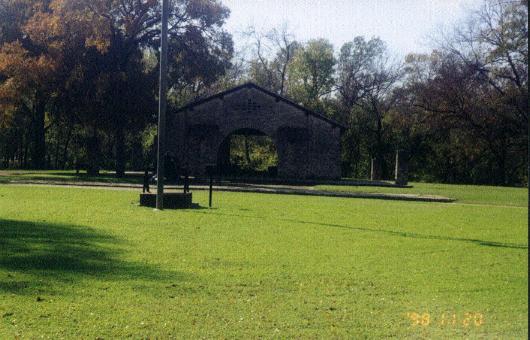 CLICK HERE FOR WEB PAGE
##########
PEARL TX."JAMBOREE"
BLUEGRASS JAMBOREE !!!
AT PEARL.TX.,EVERY 1ST SATURDAY OF MONTH...
( EXCEPT ON LABOR DAY WEEKEND. )

JAMMING STARTS AROUND NOON..
STAGE SHOWS BEGIN AT 4:30 P.M...
FREE ADMISSION...GOOD FOOD..
TAKE HIGHWAY 84 WEST
FROM GATESVILLE,TX.TO PURMELA,TX....
TAKE FM 183 SOUTH AT PURMELA TO PEARL COMMUNITY CENTER...
NO DRUMS..NO ELECTRIC INSTRUMENTS ,NO ALCOHOL!!
SOME RV HOOKUPS AVAILABLE
ELECTRIC AND WATER ONLY.
PHONE-RON MEDART AT(254-865-6013..
OR EMAIL ME..Send me mailOR PHONE ME AT (254)-986-2378..
FOR MORE INFO.


Pearl and Cen-Tex area map.

####################

One of my all time favorite places.
Across the road from where I was born.It was taken by the stinking Belton Lake in 1952.
It was on the Temple,Tx. to Gatesville.Tx. road at the time.This was the road west to Abilene,Tx. from Houston,Tx.and was on the bank of Owl Creek , about 1 mile from where it ran into the Leon River in Bell Co. Tx.

####################


MORE PICTURES LATER.WHEN I GET SOME.
Send me mail